Bumping into a Black Screen, while booting Windows 8 is one of the most reported issues of this operating system. As a matter of fact, this event has a number of preceding sources, and you can recover from it using several troubleshooting methods. This article is concentrated on one of these reasons and prescribes the applicable suggestions to get it fixed. Apart from the one under discussion, there are other solutions that can help you to fix Windows 8 black screen problem.
Ahead of moving on to the proposed solution, it's preferable to first examine your PC by Scanning and Fixing any unseen errors found which possibly is inducing your headache:
Step 1

: Download Systimizer ‒ PC Cleaner & Internet Booster (Intel Premier Partner ‒ Effective with Windows 10, 8, 7 & XP).

Step 2

: Click "Scan" to analyze your PC.

Step 3

: Click "Fix" to wipe out all bumps.
Recall the last time turning your system off, when it was in an agreeable working state. As specified in the title, this problem might have instigated due to corrupt system files. A forcible shutdown or just unplugging the machine, both have elevated chances of getting system files missing and corrupted. In this case, we would recommend you to employ one of the Microsoft's troubleshooting tools called System File Checker. Hold on! Before moving further, you must be aware of certain qualifications by referring to the phases below.
Booting into Safe Mode
Running System File Checker
Boot from Windows 8 Installation Media

Booting into Safe Mode
A preferred way to run SFC is through the Safe mode, as it boots your system with least processes and services. For the purpose of recovery, system files must not be under use of any process or service.
While being on the Back Screen, press Windows key + D on your keyboard
When the desktop screen is displayed, go to Start screen, type msconfig and press Enter
Access the Boot tab in System Configuration window and check the box next to Safe boot
Click Apply followed by OK button to save your changes and Restart your computer
You will now be directed to the Safe mode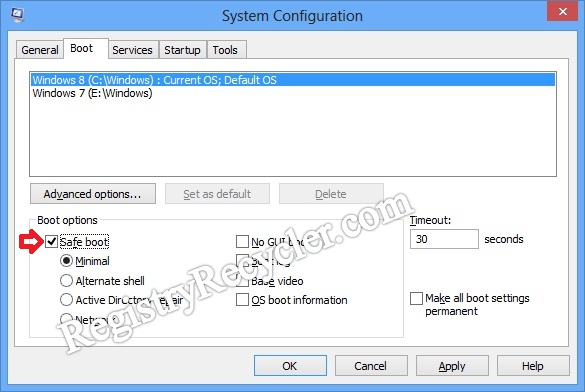 Note: Once done with the steps mentioned below, make sure you uncheck the Safe boot in MSConfig by repeating the steps stated above.
Running System File Checker
This is a free troubleshooting tool offered by Microsoft Windows operating system, and has the property to patch up the broken or damaged system files.
Soon as you boot into Safe mode, go to Start screen by pressing Windows key
Type command prompt to initiate a new Search
Locate command prompt in search results and right click it to Run as administrator
In command prompt window, type the command line SFC /SCANNOW and press Enter
Let the scan take time, as it would examine all the system files and repair the corrupted ones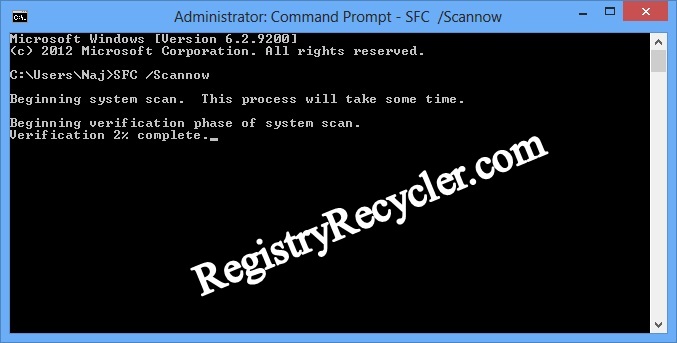 In case of a severe damage, the tool may require you to insert Windows 8 installation disc so that it could pull new files through it..
Boot from Windows 8 Installation Media
The previous section tutors you to boot into safe mode and achieve the given solutions. However, it is likely that the system does not let you enter this way. If you have been experiencing something similar, you would need Windows 8 installation media for an alternative process. Subsequently, perform the following measures.
Insert Windows 8 DVD or other external storage drive with Windows 8 installation files
Restart your computer and boot from the DVD or storage drive
Windows Setup screen will appear. Click on the Next button in this screen
Locate the text stating Repair your computer near the bottom left corner and click on it
The next display will be titled as Choose an option. These are Advanced Startup options
Click Troubleshoot tile on this screen. On the next screen, go for Advanced options
In the Advanced options screen, click Command Prompt
Once you successfully access Command Prompt, put the command given above to scan your system for corrupted and damaged files.