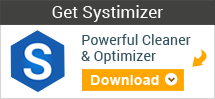 Registry Recycler Users:
Feel free to find out the useful information on this page. These FAQs comprise of the most common queries, ranging from features to usage and safety to advantages. In anticipation, this session of concerned questions and answers will be convenient enough to meet your probes. This informative manuscript is compiled in a descriptive style with indispensable preciseness. It would take a short while to go through the entire FAQ session and comprehend the registry conception. If you still have unanswered enquiries, freely interact with one our support staff at this link.
Frequently Asked Questions
System Requirements
General
Using Registry Recycler
What are the system requirements for Registry Recycler?
Registry Recycler requires following specs to set up on your PC:
128 MB of RAM
20 MB of free Hard Disk space for installation
300 MB of free Hard Disk space for defragmentation)
Intel Pentium Processor or equivalent
Internet connection for updates
Windows XP/Vista/7/8/10, Windows Server 2003/2008/2012 (32-bit and 64-bit)
Top
What is Windows Registry?
Windows Registry is a classified record of settings and configurations. It stores information of, and is used by each of the Windows components, user patterns, system/device drivers, and third party applications. Each operation when executed, calls upon Windows registry to acquire the standard and/or customized settings.
Top
Do I need a registry cleaner?
It is obvious that the registry gradually turns out to be polluted, depending upon system usage. Consequently, your computer loses the pace, takes time in starting up/loading processes, hangs up while operating, and prompts you with different error messages. As amending the registry manually, is extremely challenging and dangerous, using a reliable registry cleaner like Registry Recycler is a good choice to do this job safely.
Top
Are Registry Recycler updates free?
Yes, Registry Recycler users can get free updates.
Top
Do I get free technical support?
Yes, users can get free technical support through this link.
Top
How do I use Registry Recycler?
Registry Recycler is a utility with simplified processes and friendly interface. Although, it is easily comprehensible by even a beginner user, you can read Registry Recycler Tutorial.
Top
How often should I scan my PC?
As Windows Registry operates frequently, it is highly probable to embrace errors. It is consequently, recommended to carry out a routine scan for ensured maintenance, preferably every day.
Top
What is Scheduling?
It is one of the features of Registry Recycler, which repeats the scanning process automatically, over fixed intervals of time.
Top
What are Backup and Restore features?
Registry Recycler cleans the registry by deleting invalid and corrupted entries. However, to revive the mistakenly deleted entry, it spontaneously creates a backup before cleaning process. In such a way, the removed items can be retrieved back. In addition to automatic ones manual registry backups can also be created.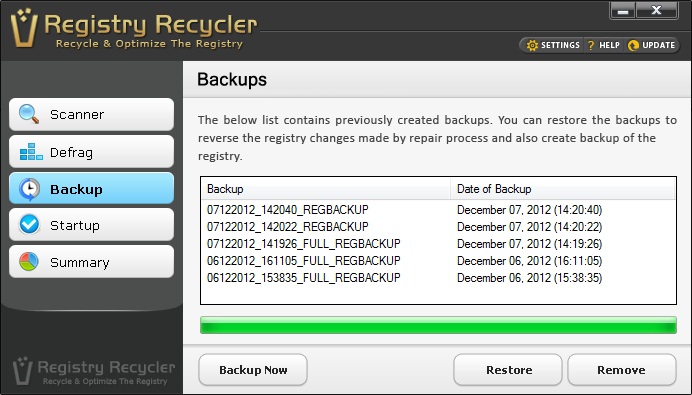 Top
What are automatic repair, close, shutdown and restart settings?
These settings enable Registry Recycler to scan the registry for errors, fix the errors and close/shutdown/restart subsequently, without disrupting the user. These options aim to relief the user by automating the process.
Top
What is Ignore List?
Registry Recycler lets its users to flag entries that are not to be scanned for errors, by adding them to the ignore list. The ignore list can be modified any time to remove items from it. Top
What is Startup feature?
Startup tab of Registry Recycler lists down the items that are loaded automatically while the user logs in. Unexploited items can easily be removed from this list to accelerate the startup process.
Top
What is Defrag feature?
The defrag feature brings fragments of registry information closer to form a linear structure. This reduces registry access time and system/application response time, to make the system faster.
Top
Can I scan custom registry categories?
Yes, Registry Recycler allows its users to customarily choose the categories and run a scan. The first screen while Registry Recycler is launched shows a list of categories in registry with a checkbox next to each one. Check the categories to examine through and leave unchecked those for exemption.
Top
Does Registry Recycler Install any other software on my PC?
No, Registry Recycler is free of any kind of adware, malware, spyware, viruses and does not include or install any extra toolbar utilities or programs.
Top
Why do I see errors after fixing Empty Registry Keys?
It is because, Windows components and some Applications running in your system, create empty keys repeatedly, which from registry cleanup standards, are considered empty and invalid. Therefore, when you run Registry Recycler frequently, you see errors after each scan is carried to repair registry.

Deleting empty registry keys is safe and offers a hassle free running environment to system. However, if you are worried about deleting them, you can uncheck the Empty Registry Keys checkbox while scanning registry.
Top
Why does it show errors (in other Categories) on my next scan?
Generally, users do not expect errors on next scan, followed by a successful repair. However, from technical point of view, you can always expect this. The reason behind you see errors is simple, as a number of third party applications and Windows processes running continuously in your system, recurrently access registry, which is why errors may occur.

To acquire a better overview on the Windows registry mechanism and how this application works, you can refer to the guidelines in the following resources:
Top
How can I uninstall Registry Recycler?
In Windows Vista, 7, 8 and 10:
Go to Control Panel and under Programs, click Uninstall a program.
Select the Registry Recycler, and click Uninstall. Alternatively, right-click the program and select Uninstall.
In Windows XP:
Go to Control Panel and then double-click Add or Remove Programs.
In the Currently installed programs list, select Registry Recycler, and then click Remove.
Top