Microsoft rolled out the much awaited Windows 10 Creators Update on April 11. The update being revealed in October 2016 is now finally available to download for Laptops, PCs and tablets. The Creators Update is what's called a 'feature update' to Windows 10 and it includes not only a bunch of new features like a performance-boosting Game Mode, a blue light filter namely Night Light and a revamped Paint app Paint 3D. But Microsoft has particularly emphasized on making various improvements to performance and usability as well with an abounding number of minor changes throughout Windows 10.
Ahead of moving on to the proposed solution, it's preferable to first examine your PC by Scanning and Fixing any unseen errors found which possibly is inducing your headache:
Step 1

: Download Systimizer ‒ PC Cleaner & Internet Booster (Intel Premier Partner ‒ Effective with Windows 10, 8, 7 & XP).

Step 2

: Click "Scan" to analyze your PC.

Step 3

: Click "Fix" to wipe out all bumps.
Creators Update is one of the biggest updates in Windows 10 aims at being 'the best Windows so far. Despite all the improvements and new features, problems and bugs are not a surprise when it comes to Windows 10. Microsoft having adopted an agile approach towards its products has made Windows 10 go through extensive changes, updates and improvements after its release. This also results in a number of problems and bugs during and after installation.
Soon after its release, Windows forums have been populous with users having a variety of issues ranging from installation failures to errors and bugs in post installation everyday functionality of the Windows.  More often than not the problems with installation might not necessarily be with the OS but at the users' end. However the 7 most common problems that came across with the Creators Update are as follows.
Update Failing to Download
One of the most commonly faced problems is the Creators Update failing to download. Windows forums have been flooded with users facing problems in downloading the update. However Microsoft mentioned in a blog post that the update might not be available for all existing users.
Though for anyone wanting to download the new update, the .iso installer is always a viable option as well. Microsoft also provides with Troubleshooters that address such issues in a very automated and user friendly manner.
Update Installation Errors
Upgrading Windows in most cases is never as straightforward as it seems. Ideally the updates should be no hassle but that is most often not the case with such major updates. A number of users experienced issues in installing the Creators Update where the update either fails to install right from the start or gets stuck halfway through the installation process.
A common solution to it would be using the Microsoft troubleshooter but it might still fail to solve the issue at times. In such a situation, heading to the command prompt and clearing existing installation files would solve the issue.
Type 'cmd' in Windows Search box
Right click Command Prompt and select Run as administrator
Type in 'net stop wuauserv' and press Enter to disable Windows Update service
Navigate to the directory C:\Windows\SoftwareDistribution delete all files present in the folder (Replace C with your system drive)
Open Command Prompt
Type 'net start wuauserv' to start the disabled Windows Update service.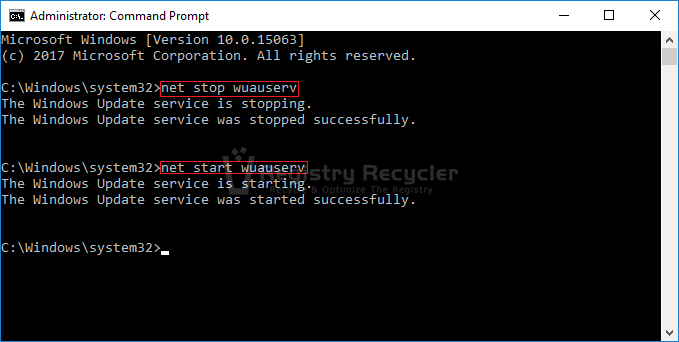 Errors in Adding New User Account
There have been a fair number of user reports for being unable to add a new user account/profile to an existing Windows 10 installation without a Microsoft account. This being a bug or Microsoft's strategy to push people to create a Microsoft account is slightly unclear.
The following steps enable a user to create new user accounts within Windows 10.
Press Windows key + R to open Run dialog.
Type 'control userpasswords2' and click OK
Click on Add under users tab
At the bottom select the option, Sign in without a Microsoft account
Click Local account
Choose a User name for the account
Add password if you want to
Click on Finish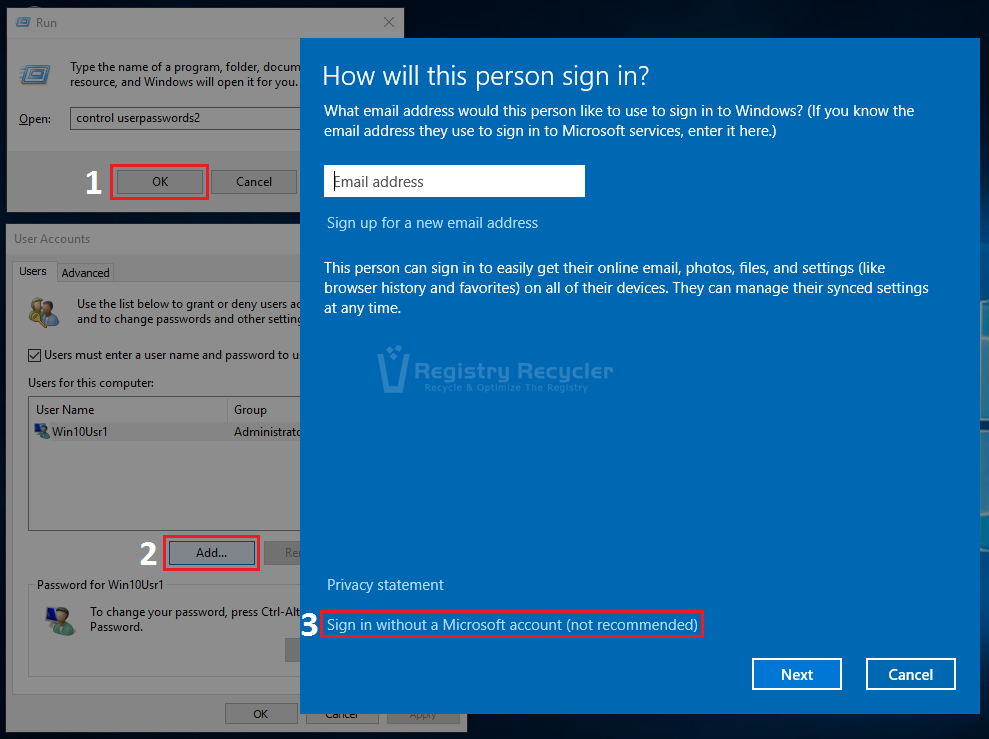 Another way around in solving this problem would be turning off all internet connections, Wifi and Ethernet and then advancing to the User Accounts' screen, which detects no internet and hence redirects users to the local account setup instead of the online Microsoft account setup.
Windows 10 not Completely Shutting Down
Many users who updated to Creators Update face a problem with Windows not completely shutting down. The Creators Update sometimes automatically enables Windows Fast Startup option. This option when enabled puts the device into a low-level hibernation state everytime the device is shut down.
This option is often responsible for causing BIOS access issues and also can require a power cut or removal of batteries to reboot the device completely every time for the startup to function normally.
Type Control Panel in the Search box
Go to Control Panel
Navigate to Hardware and Sound
Under Power Options click Choose what the power buttons do
Click Change settings that are currently unavailable
Scroll down to Shutdown settings and uncheck Turn on fast startup
Click Save changes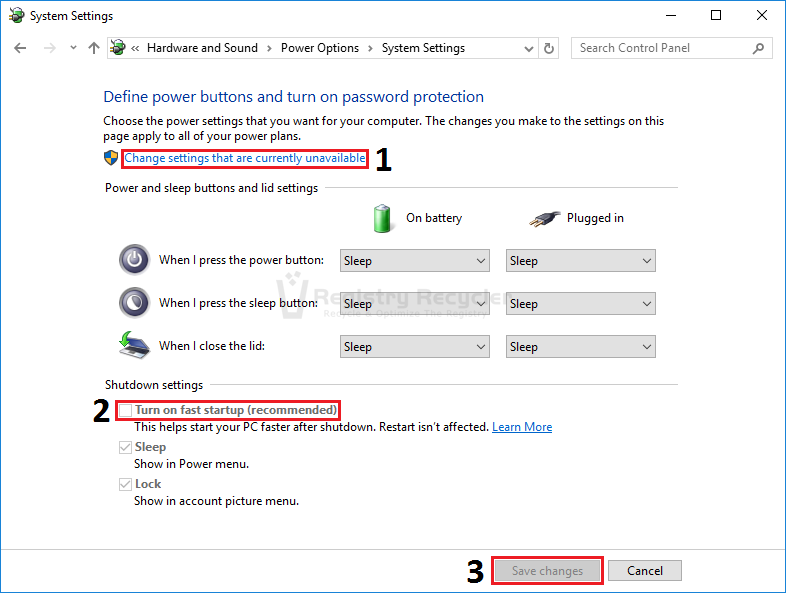 This can also be resolved fairly easily by disabling hibernation via the Command Prompt. However this is not a permanent solution for specifically turning off Windows Fast Startup.
Go to Start menu and search for 'cmd'
Right click on Command Prompt and choose Run as administrator
Type in 'powercfg /h off' and hit Enter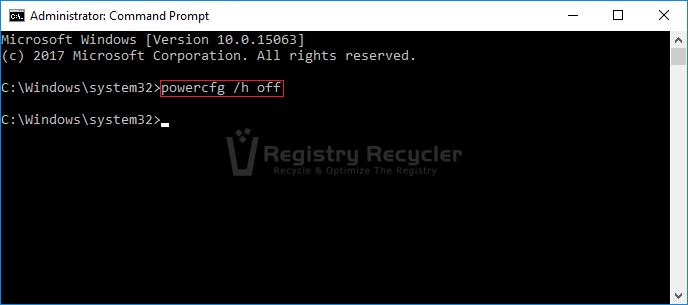 This turns off Fast Startup by disabling the hibernation option and hence solving the issue.
Games Causing Night Light Filter to Turn Off
With increasing use of screens, eye strains and other issues related to sight have propagated high in today's tech savvy lifestyles. Microsoft's Night Light Filter addition to the Creators Update addresses the same issue by adding a blue light filter which reduces the orange hue of heated screen which causes eye strain.
Users have reported the Night Light Filter to not work correctly or rather turn off during full-screen games. One solution to this problem is by using a Borderless Windowed screen for games. Switching from Fullscreen to Borderless Window makes the Night Light Filter function correctly. Although there might be a very slight impact on the FPS of the game but it generally happens to be negligible.
Another way around is by disabling the Night Light Filter and installing a third party blue light filter application. One such application is 'F.lux'.  Such applications essentially do the same job as the Windows' Night Light Filter but are often more stable with gaming options and works perfectly on full screens while gaming as opposed to the Night Light Filter in the Creators Update.
Windows Defender having Trouble Updating Definitions
Malware detection and removal is a requirement of utmost importance with the ever increasing security risks. It might not be on the top of charts but Windows Malware detection tool stands its ground as one of the finest and quite solid choices when it comes to keeping one's device safe and secure. But such a tool is only as good as its definitions.
The Creators Update is known to cause trouble in updating Malware definitions causing Windows Defender to pop up error messages while updating.
The solution to this issue as recommended by Microsoft is by restarting the Windows Updates which is fairly easy. It is done by restarting Windows Update service as mentioned above in Update Installation Errors.
Type 'cmd' in Windows Search bar and run Command Prompt as administrator
Type in 'net stop wuauserv' and press Enter to stop Windows Update service
Type 'net start wuauserv' to start the stopped Windows Update service
Or another way to update malware definitions is manually by going to Microsoft's website and downloading latest .exe definition files.
Constantly Switched on Location Services
Location services while being highly beneficial and almost necessary in today's rapidly evolving application usage, can contribute to high resource usage for portable devices and might be a privacy concern in some cases. After the Creators Update the location services quite often despite not being used by any application remain switched on. This affects the power usage and drain batteries for smaller devices.
There is no on point solution specifically for this issue. Nevertheless an easy indirect solution to fixing this problem is turning off location services altogether.
Open Settings
Search for Location privacy settings
Turn off the option Location for this device